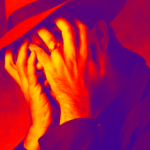 Joe Tankersley,  
Writer & Gentleman Futurist
Designing Better Tomorrows is intended to be a repository for thoughts on the way we can create positive futures. There will also be the occasional rambling observation about shiny new things and rants against those who I see as standing in the way of positive futures thinking.  
As a writer and media producer I've spent my professional life helping others create visions of better tomorrows. Along the way I've had the good fortune to explore some cool places, meet some amazing individuals, and to help entertain millions of people.
Those experiences have demonstrated, time and again, the power of narrative. A good story can be one of the most potent tools for anyone interested in changing their world. Stories about positive futures are especially important for those who want to create better tomorrows.
I've been fascinated by the future for as long as I can remember. When I discovered the field of future studies that fascination began to take on form and focus. I've worked for nearly two decades to integrate the tools of narrative into the field of foresight. Most of what you will read here comes from that practice.
I refer to myself as a gentleman futurist because I don't have any formal degrees in the field. I'm an English major and Filmmaker by education. I owe much of what I have learned about the field to my long time association with organizations like the World Futures Society and the Association of Professional Futurists, where I serve on the board of directors. Most of my education has come from experience and the very generous sharing of knowledge by some outstanding practitioners that I have had the good fortune to work with.
In the end, this project has been inevitable. I believe so strongly that we can, and must, work together to create more positive futures that I have to share whatever ideas I can toward that end. So, if you happen to stumble upon this tiny patch of the vast web, I hope you find something that might inspire you to think more optimistically about your own abilities to design and create better tomorrows for all of us.
Joe@uniquevisions.net